Explore Our Revolutionary Features
The Learn The Harp Curriculum developed by harpli™ has been meticulously built over 11 years. We have strived to make the learning process simple and fun no matter your experience level.
Inside Module 1
In this module we will review the basics of music, such as notes, beats, and measures. You'll learn all about the different types of harps and how to care for and maintain your instrument, like how to replace strings and tune your harp.
Inside Module 2
In this module we will learn how to place your hands on the harp strings and properly pluck them to make the best sound. You will also learn how to read the music and interpret the rhythms of the notes while playing one hand at a time.
Inside Module 3
In this module we will learn how to add harmonies to your music by playing complementary notes at the same time in each hand. You will continue to grow your understanding of how to read music and rhythms while building up your muscle memory.
Inside Module 4
In this module we will increase your musical skills as you learn to play with dynamics, change the tempo, and add in lever or pedal changes to get sharps. Grow your understanding of chords so you can add even more interest to your music.
Inside Module 5
In this module you will take your harp playing up a notch as you play in multiple keys, using both sharps and flats. Learn how to play faster notes such as 16th and 32nd notes while improving your understanding of rhythms and learning to read groups of notes together, recognizing patterns in the music. Finally, add embellishments to your music such as grace notes, accents, and beautiful rolled chords to impress your friends.
Each Lesson Is Broken Up Into A Technique & A Song.
We believe in the concept of Miro-Learning. So we present each lesson as individualized sections that build on top of one another. This way you can go as fast or as slow as you want on your harp journey.
Every Step Is An Easy To Follow Video
Each and every aspect of learning is presented through short, easy to follow videos. After watching the lesson, the play along videos walk you through how and where to place your fingers during practice, provide slow, medium, and fast play-along videos, and a final performance demonstration for how it should look and sound when finished.
Click Below To Explore A Sample Lesson
How is this different from just watching YouTube?
Personalized Feedback!
When it comes to playing the harp, a vital part of your learning is getting personalized feedback from a professional harp instructor. How does this work when you're learning on your own time and pace?
Our innovative Progress Recorder walks you step by step through recording your exercise and song.
After reviewing, your harp instructor will respond by passing you to the next lesson or provide vital feedback through your Virtual Harp Studio.
Go Deeper With A LIVE Professional
Harp Instructor
You can schedule your lessons on demand when you need extra help or want to learn a song from outside the curriculum. Through our custom developed integration with Zoom™ we provide your live lessons and their recordings right inside your Virtual Harp Studio.
Growing Number Of Integrated Tools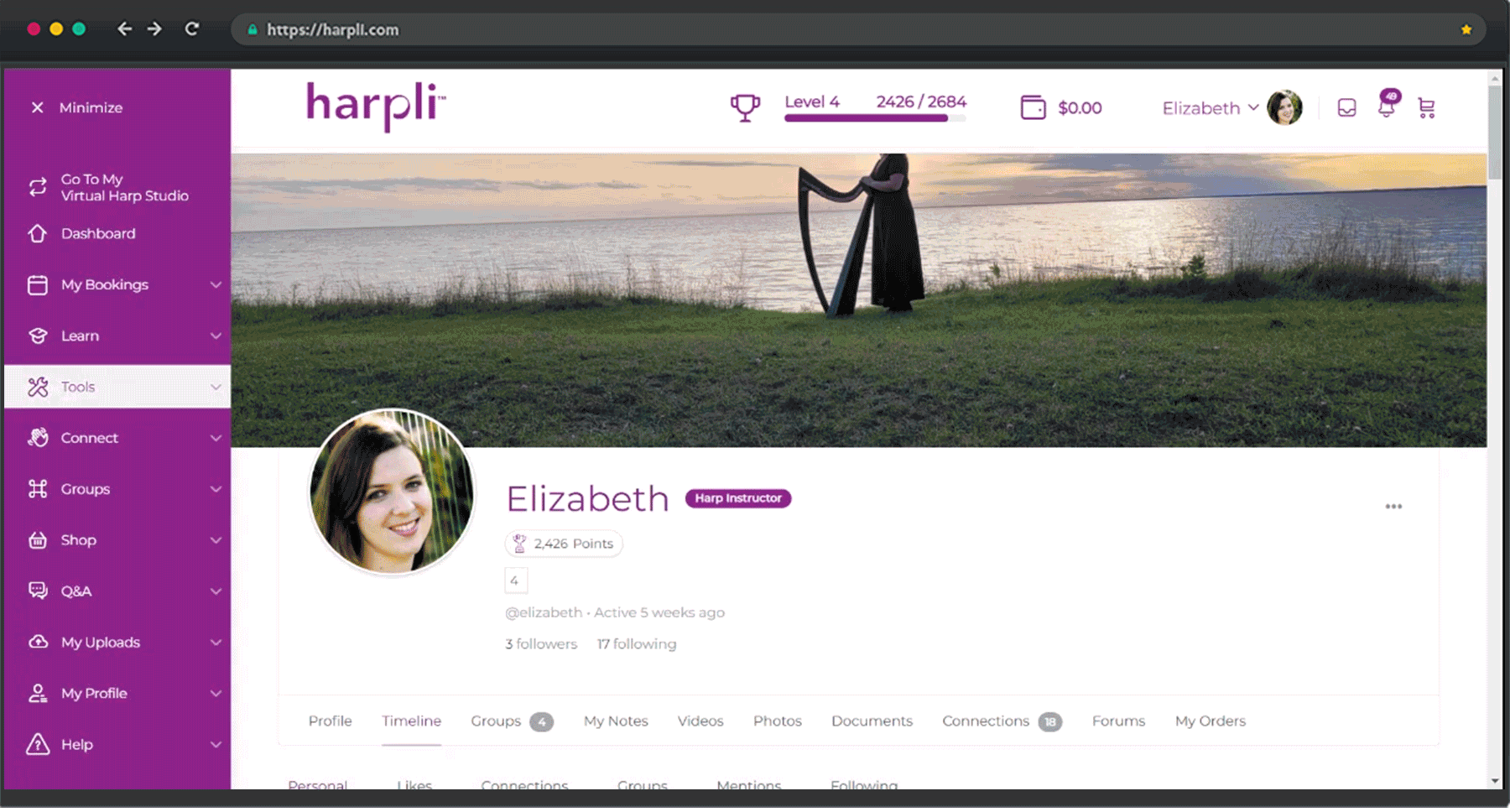 Take care of your harp needs with our integrated tools to help you tune your harp, keep time, track your practice, and build strong habits that lead to lasting success. At harpli™ we are always creating innovative solutions to make learning easier and more rewarding.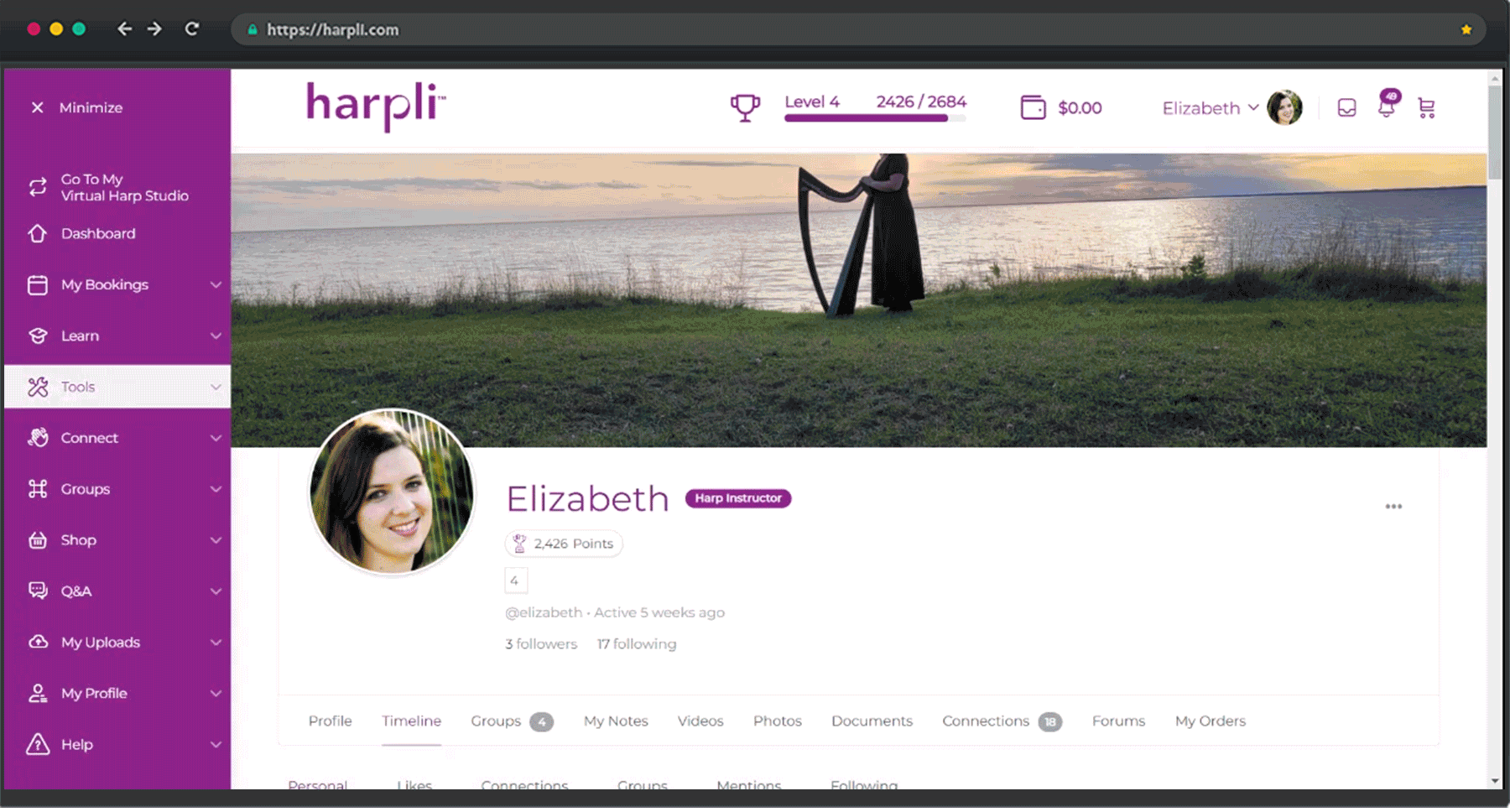 A Community To Help You Along The Way
When we decided to build harpli™ we didn't want to just teach how to play the harp. We wanted to build a safe, private community of people passionate about this incredible instrument. That is why all the social features you love from other platforms are included right here. Share posts, videos, and photos and make connections with old & new friends.
Earn Harp Cash For Purchases & Progress
We believe in rewarding our members and students for their purchases and progress. You will earn 5% Harp Cash Back for each and every purchase and recurring membership payment. Additionally, as you progress and interact with the community you will earn points. For every 100 points we will add an additional $1 to your Harp Cash Wallet.
Director of the East Orange School District & Elizabeth School District Harp Programs, Expert Harp Presenter, Composer, Private Harp Instructor, Performer
What A Harp Teaching Expert
Says About harpli
"I love one stop shopping but never thought that I would find it for my harp students!! harpli's™ Curriculum is well planned and accessible to all harpists. A beginner harpist receives all the information needed to start and learn in a progressive and pedagogically sound way. 
The lessons introduce a new skill and the songs that follow incorporate that skill. The inclusion of videos that explain all the aspects of the harp, technology and internet access to lessons speaks to the 21st century learner. I love the adaptations for small harps that is incorporated throughout the books. Elizabeth's arrangements are also a wonderful surprise because they are clearly notated with fingerings, modifications for small harps and chord symbols. 
The Starter Harp™ is perfect for learning comfortably and correctly with four different ways to play!!! The Starter Harp™ Bundle by harpli™ is the complete package and has everything a student needs to begin their harp journey. 
No more questions about what to buy because it has been thought of and put together in a package that lets the student get to the best part – Playing the Harp!!"
Simple Plans To
Accelerate Your Harp Journey
Choose your plan below and AMAZE your friends and family by
playing calming, rejuvenating, stress-free harp music.
Our students love harpli™
harpli makes it easy for me to learn even though I didn't know how to read music before starting.
I love the videos because I can play with them and know how the song should sound.
Playing the harp brings me so much joy! With harpli's lessons I am able to learn what I need and play the songs I love.
My harp playing has greatly improved since starting lessons with harpli.
As a new harpist that can read music easily I'm too busy trying to get the fingers in the right place and the expression suffers, but your pieces allowed me to play with confidence and expression!
The harp instructors have so much patience, which is exactly what I need as a beginner.
harpli does a great job of meeting the student where they are at. I love that I didn't have to learn to read music before starting to play songs, they happened together.
If you are waiting for that perfect day to start learning the harp, remember: "Someday" is not a day of the week.
This site is not a part of the Facebook website or Facebook Inc. Additionally, This site is NOT endorsed by Facebook in any way. FACEBOOK is a trademark of FACEBOOK, Inc. DISCLAIMER: The claims stated above are based on our experience with students world wide and may not be typical. Your results will vary and depend on many factors …including but not limited to your background, experience, and dedication to practice 
*Discounts off sheet music is excluded from music that is categorized and licensed outside of harpli Publishing™
*Virtual Harp Cash can be used to purchase sheet music, harps, and other products but can not be used to pay for subscriptions or memberships.