See What Our Student & Harp Teachers
Have To Say
built for harp students
by a harp teacher
Learn with peace of mind when everything you need to play the harp is always with you in one perfect case!
See What Our Student & Harp Teachers
Have To Say
Why Did We Build This Harp & Accessories?
We constantly hear about all the issues with new harp learners and their harps and accessories (or lack thereof). That is exactly why we made this harp and its bundle of accessories. 
We put years of thought and care into our harp design and what would benefit all the harp learners that so desperately needed it.
We wanted it to be light but strong, versatile but compact, and high quality but affordable. 
The development of our accessories were born out of notating every frustration we saw students experience. We wanted the students to focus on learning and not worried if they had everything the needed. All along the process we made all decisions by one statement: "everything fits in the case."   
So why did we choose the name The Starter Harp™? We chose this name to 
encourage new people to give the harp a chance.
 Our mission as a company is 
to grow the harp community. 
We do this by 
making learning the harp more accessible and owning a harp more affordable.
Other harps on the market may be built larger or heavier. Those harps may be difficult to play for young and the young at heart. It was important to us to build a harp that was easy to transport, wear, and play.
12" Adjustable Play Stand
Our Patent Pending adjustable legs lift the harp up to 12 inches in one inch increments. We designed this specifically with students in mind. When someone starts learning the harp they typically don't have an adjustable harp bench and will use whatever chair is available. Sure, you could use the lab bar, but we don't want students worrying about balancing the harp when they need to be focusing on hand position and basic technique.
Color Coded
Strings & Levers
When starting to play the harp it can be difficult to know where everything is. We make sure that both the strings and the levers have bright blue and red colors to help you find the notes and levers quickly.
In a world where some harps don't even come with cases or the cases don't have enough room to store accessories, we knew we could do better. Our harp case contains all the accessories, room for your sheet music, and of course the harp itself.
Full Set of
Replacement Strings
We include a full set of replacement strings for when the inevitable happens. When new harps get up to tune and a string breaks we don't want you waiting or paying for a new one to arrive. Our string set includes 6 BioCarbon™ Sugar strings and 20 nylon strings. We string all the base strings with these superior BioCarbon™ strings instead of wound nylon like many other lever harps.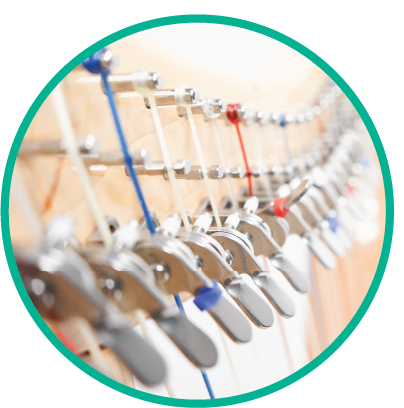 Most affordable harps in our category do not come with many or even any levers without charging you extra. Not having levers leads to a limited range of music that you can play. That is why we include full levers on our Starter Harp™. Our Steel harpli™ Levers are one of our proudest creations. It was important to us that our levers not be made of plastic. Plastic levers fail, break, and don't hold their position when sharpening the string.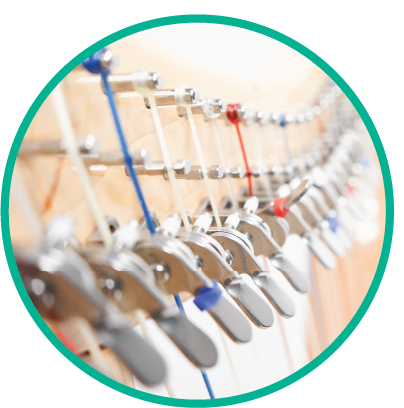 Everything Fits
In The Case
Nothing is more frustrating than arriving to play your harp and realizing you forgot something. That is why we designed a harp case where everything has a home. We even include a separate pocket for your notebooks and sheet music.
Strung With
Medium Tension
We string our harps with medium tension rather than the typical lap harp light tension. This ensures that the potential transition to larger harps including pedal harps is not as jarring as with other smaller lever harps. Also, we have had pedal harpists purchase this as a travel harp for the same reason.
When we decided to build the Starter Harp™ one thing we did not want to do is charge extra for every one of our accessories. That is why our full suite of accessories comes included standard with all Starter Harp™ Bundles.
One of the things we love to do is innovate and find new ways to make the harp owning and playing experience worry free. That is why we launched the HarpCare™ and Total HarpCare+™ programs. When added to your Starter Harp™ these programs deliver peace of mind when the unthinkable happens.
How Do The Programs Help?
Earn Harp Cash For Your Purchase Or Rental Payments
We know that investing in a new harp is expensive that is why we want to offer you some Bonus Harp Cash Back. You will earn 5% Harp Cash Back for each and every purchase and recurring rental payments. When you create your free harpli account and interact with the community you will earn points. For every 100 points we will add an additional $1 to your Harp Cash Wallet.
We pride ourselves on having the most versatile
harp that can be played in a variety of ways.
You can play standing or walking with our harpli™ Harp Strap
You can play balancing with our comfortable lap bar
You can play sitting with the harpli™ Adjustable Play Stand
You can play standing by extending our harpli™ Play Stand​
"The Starter Harp™ is amazing! I can't believe how much sound comes from such a small soundboard."
UNIVERSITY PROFESSOR, COMPOSER, HARP INSTRUCTOR,
GRAMMY NOMINATED PERFORMER
What A Harp Expert Says About the
Starter Harp™
Simple Plans To
Get Your Starter Harp™ In Your Hands
Choose your plan below that fits your needs
and allows you to start playing now.
Our students and teachers love the Starter Harp™
I can't get over how much sound is produced by such as tiny soundbox! And I love that you can really pull on the strings and develop quality technique unlike on so many lightly strung lap harps. This is the kind of harp I want my students to start on because it has everything you need to be successful.
The Starter Harp is really easy to play and to carry around. I was most surprised by how much sound it produces and that it's good quality not tinny.
I wish I had known about the Starter Harp when I first began playing harp. It would have saved me a lot of frustrations, because my first harp was missing so much that I needed to play easily. I highly recommend the Starter Harp!
The Starter Harp™ is perfect for learning comfortably and correctly with four different ways to play!!! The Starter Harp™ Bundle by harpli™ is the complete package and has everything a student needs to begin their harp journey. No more questions about what to buy because it has been thought of and put together in a package that lets the student get to the best part – Playing the Harp!!"
We love the Starter Harp! It is easy for my daughter to handle and play, and I know as she grows it will grow with her using the adjustable stand.
I really love the Starter Harp. I love that is has colored strings and levers so I can learn to play easily. And being able to rent to own made it so I could afford to get a quality harp like this.
If you are waiting for that perfect day to get a harp, remember: "Someday" is not a day of the week.
This site is not a part of the Facebook website or Facebook Inc. Additionally, This site is NOT endorsed by Facebook in any way. FACEBOOK is a trademark of FACEBOOK, Inc. DISCLAIMER: The claims stated above are based on our experience with students world wide and may not be typical. Your results will vary and depend on many factors …including but not limited to your background, experience, and dedication to implement. 
*Discounts off sheet music is excluded from music that is categorized and licensed outside of harpli Publishing™
*Refunds of rental and rent to own harps deposits are returned in full as long as you have rented for at least 13 weeks and the harp is in like new condition.
*Virtual Harp Cash can be used to purchase sheet music, harps, and other products but can not be used to pay for subscriptions or memberships.