Building Your Business
On Your Own Doesn't Mean
You Have To Do It Alone.
where you can Add some
Super Powers to your Harp Business
⤥⤥ click below now ⤦⤦
See What Our harpreneurs™
Have To Say
Building Your Business
On Your Own Doesn't Mean
You Have To Do It Alone.
where you can Add some
Super Powers To your Harp Business
⤥⤥ click below now ⤦⤦
See What Our harpreneurs™
Have To Say
Explore Our Features Built For Growth
Easy To Follow
Growth Plans
The Growth Plans developed by harpli™ have been created with over 35 years of combined experience. Our Growth Plans help you build skills covering marketing tactics, aspects of business, becoming a performance professional, and building a teaching studio.
In-depth
Courses & Certifications.
We believe in the concept of Miro-Learning where you break complex concepts down into bite sized easy to consume chunks. So we present each course as individualized sections that build on top of one another. This way you can go as fast or as slow as you want on your harpreneur™ journey.
Explore Our
Coaching Call Archive
Building on top of our growth plans, we go deeper inside each topic with our live Coaching Calls. Explore the Coaching Call archive and increase your knowledge on every aspect of your harp business.
Ready To Use
Template Library
Accelerate into your successful harp business future with our ready to use templates. Copy our proven documents, contracts, and tools that we have been using for decades to build our private studios.
Learn And Share Inside
The harpreneur™
Business Alliance
Participate in the private harpreneur™ Business Alliance when you need extra help or want to share something you have learned on your harpreneur™ journey. Join this exclusive group of harpists intent on building their businesses.
Work Through Tough
Issues Inside
harpli™ Labs
Join our LIVE group Lab calls to participate in this Done-With-You style workshop. We will be implementing the skills and concepts taught in the Growth Plans and Courses.
Go Deeper With A
LIVE Certified
harpreneur™ Coach
You can schedule your private coaching call on demand when you need extra help or want to learn something specific from outside our Growth Plans and courses. Through our custom developed integration with Zoom™ we provide your live one-on-one coaching sessions and their recordings right inside your Virtual Harp Studio.
Growing Number Of Integrated Tools
Take care of your harp needs with our integrated tools to help you tune your harp, keep time, track your practice, and build strong habits that lead to lasting success. At harpli™ we are always creating innovative solutions to make learning easier and more rewarding.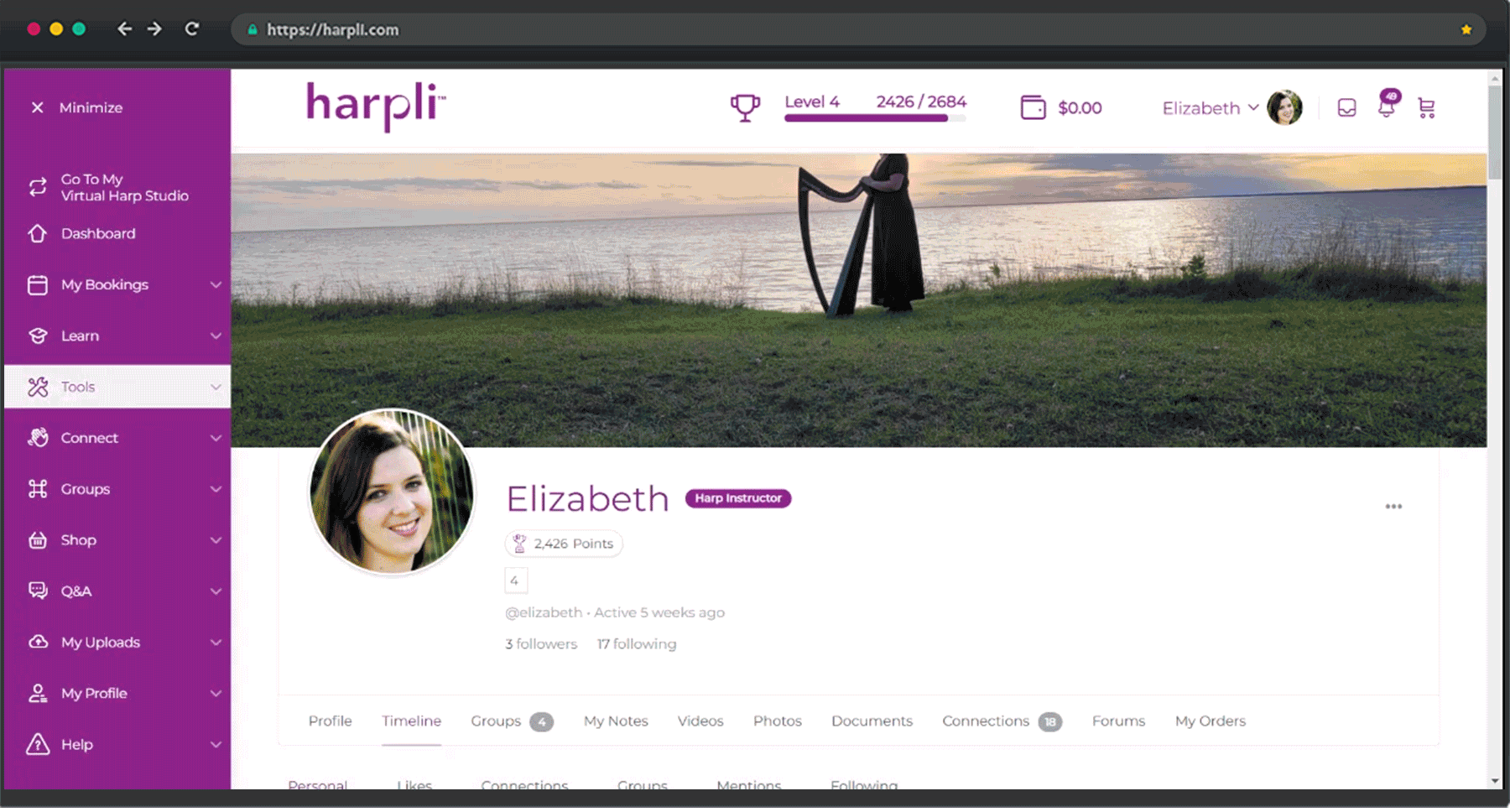 A Community To Help You Along The Way
When we decided to build harpli™ we didn't want to just teach how to build a harp business. We wanted to build a safe, private community of people passionate about this incredible instrument. That is why all the social features you love from other platforms are included right here. Share posts, videos, and photos and make connections with old & new friends.
Earn Harp Cash For Purchases & Progress
We believe in rewarding our members and students for their purchases and progress. You will earn 5% Harp Cash Back for each and every purchase and recurring membership payment. Additionally, as you progress and interact with the community you will earn points. For every 100 points we will add an additional $1 to your Harp Cash Wallet.
What A Harp Expert Says About harpli
"harpli helps harpists take the music that we learn and play and connect it to places and people, enabling and enhancing the teaching and performance situations for harpists and their audiences. This is what is so needed and missing for many harpists today."
FOUNDER OF HIPHARP.COM, EXPERT IN IMPROVISATION, COMPOSER, HARP INSTRUCTOR, GRAMMY NOMINATED PERFORMER
Simple Plans To
Accelerate Your harpreneur™ Journey
Choose your plan below and START or GROW your harp business
faster, with confidence and the tools you need.
Our harpreneurs™ love harpli™
I am so glad I am part of harpli! I just got an enquiry for an event that is far and required me to add on mileage, and I was able to calculate it with ease from the lesson on travel fees.
I am loving harpli™!
It has helped me so much!
I've learned so much in such a short amount of time. I enjoy that it's not on how to play the harp, but on how to do the business part, because I had no training and no knowledge of that and I feel like I've really learned a lot.
Excited to say that I recently sent my first electronic invoice to a client using my new technical skills learned with harpli™! I would recommend harpli™ to any of my harpist friends who are looking to increase their business skills.
harpli™ is AMAZING! An excellent resource for the harp entrepreneur! Elizabeth is wonderful in explaining things and so succinct. I love the amount of time involved in the videos. I highly recommend harpli™!
My business thanks to harpli and my own efforts has grown a lot this past year. Too much, actually. I am being mindful of what to say yes to and what to say no too. I received a gig inquiry today and they said I was too expensive. The old Emily would have bent and negotiated to make the deal work. harpreneur™ Emily just let that gig go. I am becoming much more confident in my music skills and most importantly, my business and negotiating skills. Thanks, harpli! Cheers to all of us for improving ourselves and our businesses!
If you are waiting for that perfect day to start growing, remember: "Someday" is not a day of the week.
This site is not a part of the Facebook website or Facebook Inc. Additionally, This site is NOT endorsed by Facebook in any way. FACEBOOK is a trademark of FACEBOOK, Inc. DISCLAIMER: The claims stated above are based on our experience with students world wide and may not be typical. Your results will vary and depend on many factors …including but not limited to your background, experience, and dedication to implement. 
*Discounts off sheet music is excluded from music that is categorized and licensed outside of harpli Publishing™
*Virtual Harp Cash can be used to purchase sheet music, harps, and other products but can not be used to pay for subscriptions or memberships.